YOU WILL NEVER GO ANOTHER WEEK
WITHOUT KNOWING EXACTLY WHAT
YOU ARE GOING TO PREACH ON SUNDAY!!
Dear Minister,
If you're like me, you are always looking for better ways to communicate the Gospel of Christ. It is hard to consistently come up with messages that will drive home the point of God's Word and lead to conviction of heart.
You might be the type that shies away from "canned sermons" because you want the work to be wholly your own. At the same time, you could use some help with research and outlining to get you started in the right direction.
We have THE resource that you need!
Introducing: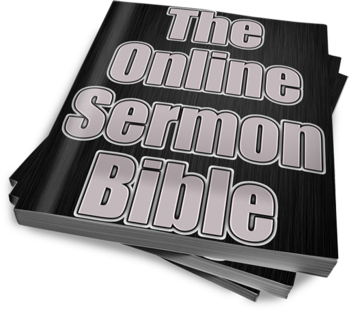 This massive collection contains sermons, outlines, commentary, and more on every single book of the Bible, from Genesis to Revelation. If we were to print it out it would be well over 5,000 pages of material.
The Sermon Bible was originally compiled by William Nicholl as a print collection of 12 Volumes that has blessed ministers for many years. We have taken this great work, and digitized it for your use online.
That's right! You can access this great resource online anytime that you want to help you to write great, God-honoring sermons and Bible studies. And you can have full access only five minutes from now!
HERE'S A SCREENSHOT
(Once inside, you'll just click on the book you
want to access all the resource material!)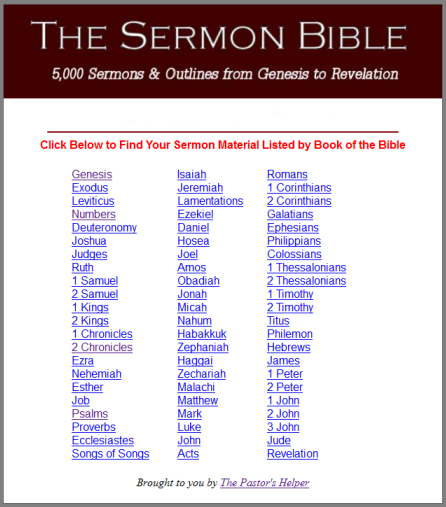 Would you like a free sample? Just click here!
Benefits of Using The Sermon Bible

Lifetime Access to 5,000 Sermons, Outlines, Studies.
Over 24,000 Homiletic references.
Plan your messages WAY in advance.
Learn to be a more skillful and disciplined minister of the Word.
Just "copy and paste" into your word processer.
There's really not a lot more for me to say. I think this great resource speaks for itself. So I imagine the big questions you're asking right now are:
*How Much is this going to cost?
*How fast can I get it in my hands?
Well, I'm about to surprise you -- the cost is only $37.00, and you will have ACCESS IMMEDIATELY after you order (even if it's 2:00 in the morning!).
Are you ready to order? Just Click the button below!

Note: After payment is made you will see a box that says "IMPORTANT: Click
Here to Download Your Product" Make sure and click for instant access. (You will also receive an e-mail confirmation with a link to The Sermon Bible access area.)
In Christ,